Pool Deck Resurfacing San Diego
We know you pride yourself in the swimming pool you have installed. Whether it's early morning lap swimming or playing with kids on warm afternoons, your swimming pool keeps your family outside soaking up vitamin D and enjoying the San Diego sunshine.
But your pool deck can develop cracks and chipping over time if you do not apply proper deck coating. On top of that, exposure to the sun can lead to fading, and many concrete decks do not provide nonstick surfaces, which can be unsafe and bring about slips and falls. 
However, an epoxy pool deck will solve all of these issues– and then some!
Pool Deck Coating: An Investment in your Home
An epoxy coating provides several benefits to your swimming pool deck. With a resin poured over your concrete, you can ensure that your pool deck lasts for many years and won't require maintenance or upkeep beyond a simple spray down. The coating keeps your deck from chipping or cracking, which can create stumbling areas for swimmers. Additionally, your pool deck will fade more slowly in the San Diego sunshine and with contact with exposure to harsh chemical additives such as chlorine. 

Additionally, your pool deck can be stained, stamped, or finished with any number of unique design elements: from the addition of a simple color to the appearance of tile or stone. 

If you're hoping to beef up your curb appeal or impress your neighbors with a poolside barbeque, deck coating is a fantastic solution that will improve your home's value while also creating a sense of pride that comes from a beautiful and relaxing pool.
How a Decorative Pool Deck Can Make Your Backyard
If you've noticed cracks developing on your existing concrete, you may consider pool deck repair in the form of a concrete overlay. This overlay can add longevity and strength to your existing concrete while also providing an opportunity for bringing an artistic flair to your backyard. Choose from attractive stain colors to a stamped and textured look. Additionally, consider selecting a no-slip surface finish so that bare feet can grip the deck and keep your family safe. 
It may not be necessary to demolish your existing concrete surface to refurbish and provide pool deck repair. That's because an epoxy pool deck can be poured and cured on existing concrete to create brand new protection and beauty at an affordable price.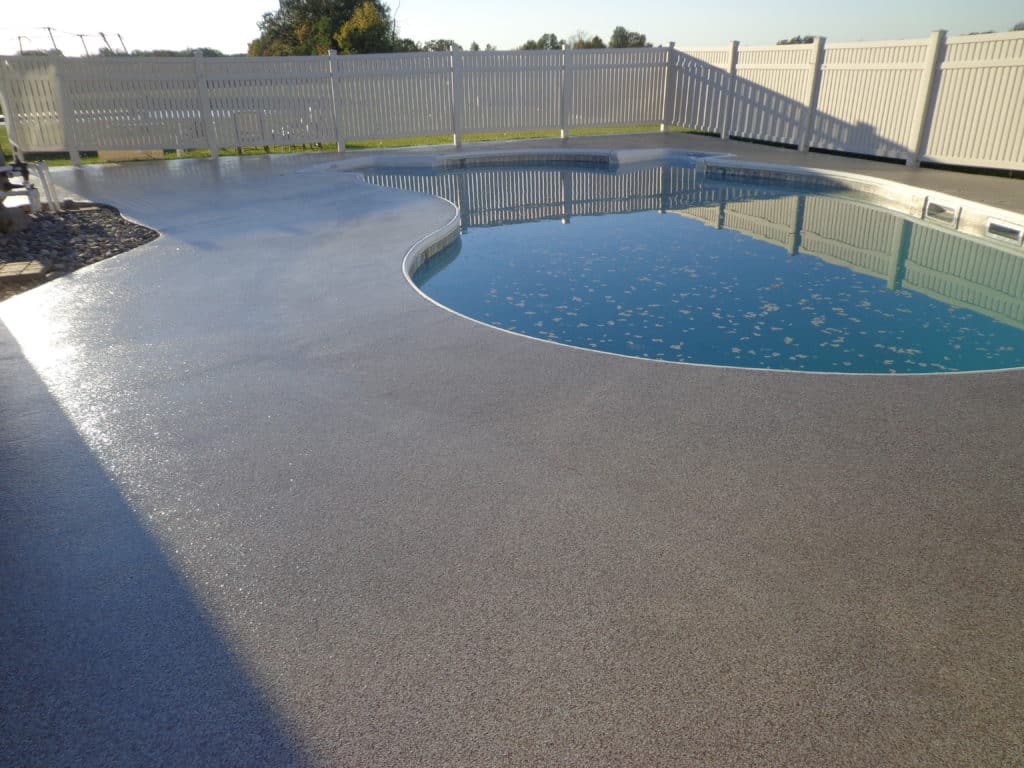 At SD Epoxy Floors, we professionally install commercial and residential epoxy flooring for your home or business. With over 10 years of experience, we're your local contractor that stands behind our work. Give us a call today!
Swimming in San Diego with an Epoxy Deck
At SD Epoxy Floors, we are your neighbors. We are proud to serve you in the following locations:
San Diego
San Diego County
El Cajon, CA
Chula Vista, CA
Escondido, CA
La Mesa, CA
Call for an estimate if you're considering changes to your existing deck or if you are hoping to install a new pool for the year. Our expert contractors will walk you through every step of the installation process: from design to implementation. We are experienced and utilize top quality materials to produce the backyard of your dreams.