At SD Epoxy Floors, we know that whether you live in an urban bungalow or a rural estate or own a warehouse or a restaurant, you want every aspect of your property to reflect your style and needs. As a home or business owner in San Diego, CA, you have worked hard and saved up to purchase your property, and you want to pour your heart into making it great from top-to-bottom.
There are many ways to customize your space with epoxy flooring to make it highly aesthetically pleasing while also staying within your budget and investing in quality materials to secure future security.
Call our San Diego epoxy flooring professionals about the best ways to customize your floor in any residential or commercial space, and you'll get unmatched customer service.
Our neighbor had epoxy installed on their garage floors and I loved the way it turned out. I hired the same company, and I have to say I am thrilled with Ryan's work. He gave me different product and color options and helped me get a color scheme that matches my car. I LOVE my garage now.
Benefits of Epoxy Flooring
We've talked about the ways epoxy coating can be great for residential and commercial projects. But let's talk more broadly about why epoxy flooring is the best choice.
Garage Epoxy Flooring That Lasts
Industrial-grade epoxy for your garage is precisely similar to what you'll get when you work with SD Epoxy Floors. That's because all our garage floors meet the same standards for long-lasting, chip-resistant, and heavy-duty impact needed in a factory or warehouse setting. 
Consider what work you may do on your garage floor. You'll want a floor that won't absorb rust, paint, or oil stains, that is easy to clean, and that won't be damaged by vehicle traffic or heavy stored items. Concrete texturing is also available for driveway coatings, creating a seamless connection so that weeds and unsightly cracks won't grow. 
You will extend the life of your concrete garage floor by many years with epoxy coating, which will, in turn, increase the value of your home and help personalize your space. Not only that, but your garage floor will be resistant to black tire marks and will look more like an extension of your home rather than a dusty concrete place to store motor oil. You may even want to set up a dartboard for when company comes by. 
Perhaps you haven't seen flake epoxy flooring before. An epoxy flooring contractor is available to come by to discuss the work we think would be highly recommended in your home. Our professionals will work to make your new epoxy garage floor great. 
SD Epoxy Floors offers free estimates. Contact our customer service today to learn more about our garage services!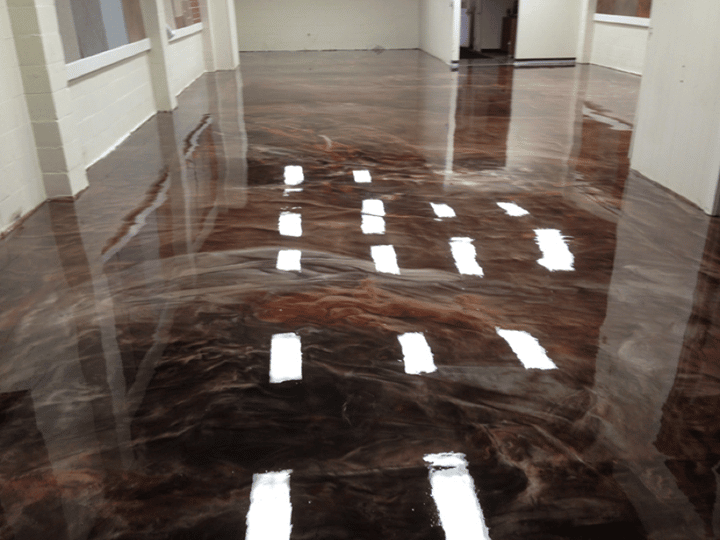 Epoxy Floors for Your Home
Epoxy coating can provide brilliant colors and patterns for your residential project. From a bright swirling kitchen to a gray marbled living room—metallic epoxy is a durable and attractive epoxy flooring solution that will lead your family and friends to comment about its shine, sparkle, and uniquely artistic appearance.
For example, consider a gold flaked entryway reflecting your lighting and inviting your guests into your living space. Or think about a color-blocked master bathroom bringing your taste into your private areas. SD Epoxy Floors can use mica chip flakes to simulate the appearance of lightning or flowing water. Your pool table will look fantastic on top of a new, smooth, stain-resistant epoxy floor in your gaming room.
Also, consider the benefits of an easy-to-clean epoxy floor. Soap and water will do the trick without exposing your home to any harsh chemicals. We know that pets and children sometimes have accidents or spills, but with epoxy coating, your floors will be easily mopped up and good as new. You'll find that hardy decorative epoxy stands up to chair scrapes, furniture moves, and even heavy bookshelf corners. In fact, with flake epoxy, our pros will make your floors both beautiful and tough-as-nails—a perfect and hard-to-find combination.
Contact our epoxy flooring contractors to request a free estimate for your residential project and learn more about our great services.
Outdoor Concrete Coatings Protect
and Enhance Curb Appeal
Unlike a living room or a garage floor surface, pool deck coatings and sidewalk coatings are exposed in the San Diego, CA sun. Thankfully epoxy coating provides a literal screen from the sun, keeping your concrete floor like new, preventing fading for a long time. Additionally, consider choosing a durable, slip-resistant epoxy coating for any exterior surface to ensure your family stays safe and doesn't slip and fall in icy or wet conditions.
You may also wish to add concrete stamping and colors your epoxy concrete coating to simulate the look of stone, brick, or tile for your driveway coating. This reliable yet well-designed material will bring up your home's value while also withstanding all San Diego, CA weather conditions without chipping or cracking. Essentially, you are purchasing an affordable yet beautiful investment in your property that will last for years to come.
Attractive sidewalk coatings done by our San Diego epoxy flooring contractors will show your neighbors what you bring to the San Diego, CA community and will help solidify your place within your residential area. Call our professionals to request a free quote today and learn more about our concrete coating service!
Commercial Epoxy Floors for Every Space
From restaurants to hospitals and from retail showrooms to computer server space, you can tailor commercial flooring to your business needs.
For example, clean, slick-proof epoxy floor coatings are an essential component in a kitchen or surgical theater floor, whereas a shiny gloss finish epoxy floor coating is necessary for a department store. For website hosting companies, concrete coatings must withstand the accumulation of moisture.
In all cases, what's required is a great, heavy-duty epoxy floor coating that is easy to clean and doesn't invite microbes in to multiply on the surface. A high gloss shine brings a highly aesthetic appearance to commercial floors. Our floors are stain-resistant, and you can customize your floor coating for any business needs.
Most of all, your business needs to know your epoxy flooring contractors are professional, well trusted, and can get the installation done right. SD Epoxy Floors contractors offer professional experience and quality materials you can count on for your next project. Not only that, but we know you want your epoxy floors taken care of by pros without having to make endless corrections and repairs. Your contractor will get the installation done right the first time, leaving you with a great epoxy floor that requires minimal maintenance.
Learn more about our services and request a free quote for your commercial project.
Here are a few other places where we have seen epoxy flooring transform a commercial space in the San Diego, CA area: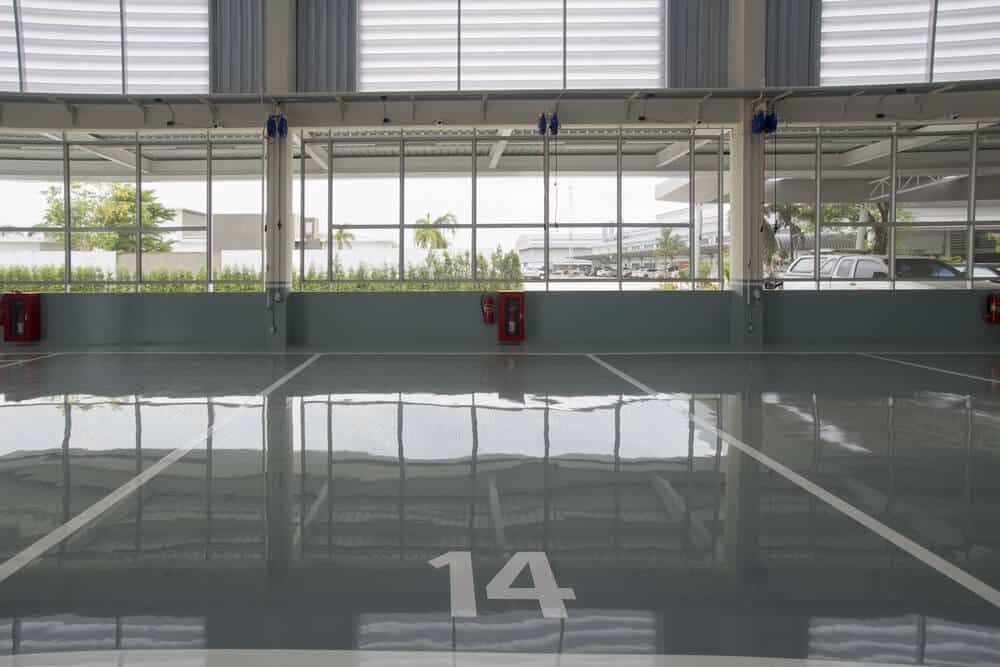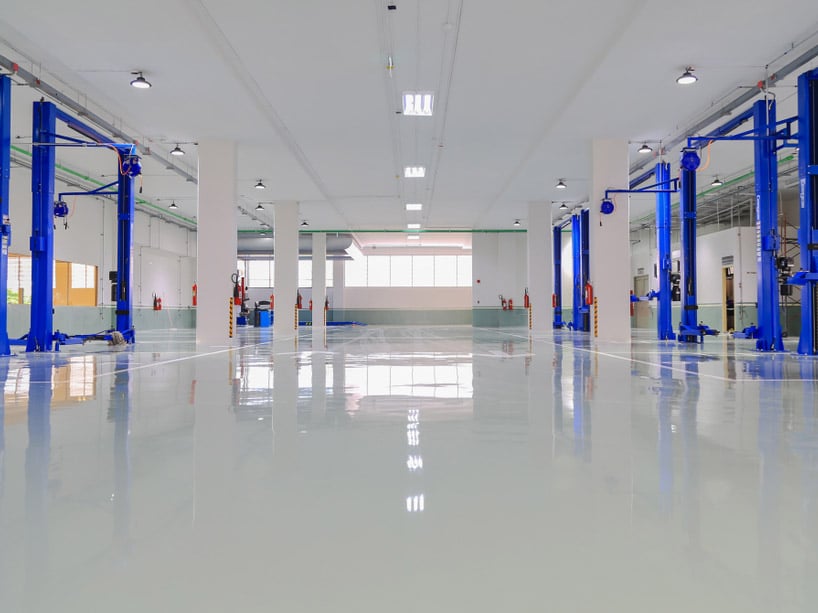 Industrial Epoxy Flooring for the Long Haul
Functional flooring doesn't have to be boring. In fact, with epoxy coating, you can manifest your business' brand throughout your flooring concept. Dull, stained floors are a thing of the past. Our pros can even install your company logo on the epoxy floor, reminding everyone of the company they represent.
Not only that, but you can select these great epoxy floors that meet your needs: such as self-leveling, quartz filled, or epoxy mortar floors, to name a few. Epoxy is applied in liquid form, making it the best for endlessly customizable options.
We know you need a great concrete floor that won't cause employees to slip on the surface and that can withstand dropped heavy objects and foot traffic over many years. Also, you can use harsh chemicals in industrial settings as well as hot implements. Epoxy flooring is resistant to burns, stains, and melting and ideal for factories, warehouses, and manufacturing facilities.
If you'd like a contractor to install a floor that lasts for twenty years or more for a reasonable price, consider our industrial epoxy flooring.
Choose SD Epoxy Floors for Professional Installation
If you're a home or business owner in San Diego or the San Diego, CA area, you know that there's never a convenient time to hire contracting services. There's always a more extensive project or an upcoming holiday that prevents you from making the call and getting a free estimate.
But with concrete, the longer you wait, the more damage can occur to the surface. That's why we urge our residential and commercial customers to take a quick second and contact our professional contractors. Our pros will be happy to discuss your epoxy flooring project in-depth and make suggestions about how to make your floors great. Additionally, we'll provide a free quote for our services to think about when you want to get started.
We serve residential and commercial customers in these areas:
San Diego, CA
San Diego County, CA
El Cajon, CA
Chula Vista, CA
Escondido, CA
La Mesa, CA
Our licensed, bonded, and insured epoxy flooring contractors know how to work with our clients to achieve your flooring needs while staying within the budget and producing quality, long-lasting concrete coatings. We want to be the best concrete coating experts you call and recommend for all installation projects—from great new epoxy garage floors to a remodeled manufacturing facility to resealing your coating.
Call our San Diego epoxy flooring contractors today and we would be happy to discuss your project and get started working with you, our San Diego, CA neighbors.